Project Description

Member : DUANMU Junqing, MORINAGA Daiki, LEE JeeYoon, JIU Zi
Format : Stop-animation, paper cut, 2D digital
Time : 1min.
  Story
One day, a pink baby elephant discovers that her color and size are different from the others. She wants to be like them! She tries hard but fails. When she is feeling sad, she finds PS…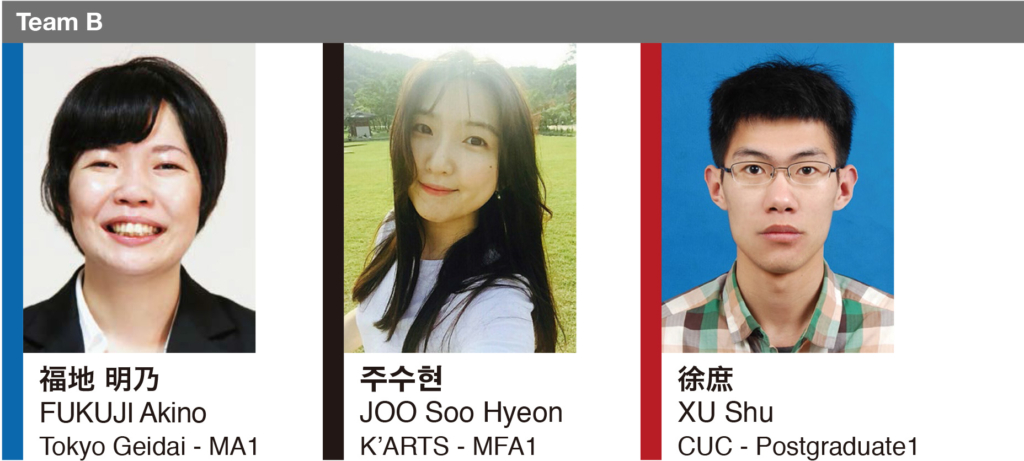 Member :  FUKUJI Akino, JOO SooHyen, XU Shu
Format : 2D Computer drawing, real images
Time : 1min.
Concept : Each traveler is designed by a team member
Story
Two archaeologists climb the bodies of real people and explore the human body with a map and compass. They explore the nostril cave and climb up the belly. At the end of their difficult exploration they find a soft "lip rock" and decide to take a break. Suddenly the mouth starts to move and takes a huge breath, and the two archeologists are eaten. The next day, journalists from around the world gather at the "lip rock" to cover the strange movement of the ground. The camera gradually moves from the "lip rock" and a big face appears. When the camera moves further, a girl sleeping on a couch appears. After a while, the girl sneezes. Unlike the busy situation at the "lip rock," the girl seems to be in peace.

Member : TANI Yosuke, Jung SoYeon, HAM HeyYoung, Li Yanfei
Format : 2D digital painting, hand drawing
Time : 2min.
Story
Students from three countries, China, Japan, and South Korea, express their first impressions and show the process of change. When the image passes to the next person, it naturally transforms using morphing techniques. At the end, all of the students appear. Students transform in the order of Yosuke (depicted by Yanfei) – Yanfei (depicted by Hyeyoung) – Hyeyoung (depicted by Soyeon) – Soyeon (depicted by Yosuke).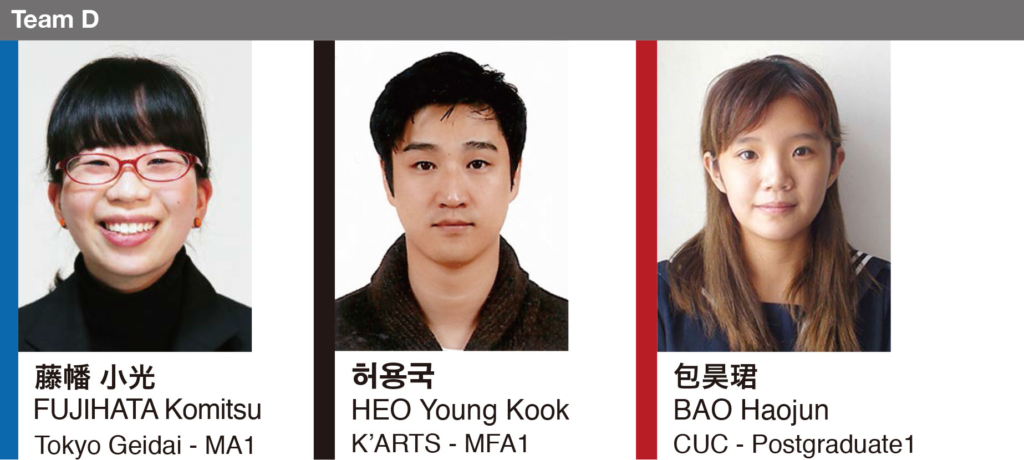 Member : FUJIHATA Komitsu, HEO YoungKook, BAO Haojun
Format : Digital 2D animation
Time : 1min.
Story
One day, a girl is cleaning her room while looking for one of her socks. When she takes a look under the bed, she finds a bunch of mice living there. And she discovers that a mouse is sleeping in her sock. She kindly leaves her socks and decided to wear a different sock.
Member : MURAMATSU Leina, OH Sanga, LI Hanxu
Format : Pixilation, 2D, hand-draw animation
Time : 1min.15sec.
Story
Three students are sitting in front of a table with onions. They start peeling the skin of the onions. Then, food from Korea, Japan, China comes out of the onions, and the students start tasting the dishes one by one. Their imaginations unfold on the screen. After finishing their food adventures, they look happy. New buds come from the onions, and the buds grow bigger and bigger until many flowers blossom on the earth.