The 14th International Collaboration of Animation (Co-work) was held online and on-site blended events. Participants from Communication University of China (CUC), Korea National University of Arts (K-Arts) and Tokyo University of the Arts (GEIDAI) met on June 1, June 15 and July 11 online. GEIDAI hosted the onsite workshop from July 24 to August 4 at the Yokohama campus. Assisting members of CUC undergraduates participated online during the production. The final presentation took place on August 5 both on-site and online.
The theme for Co-work 2023 is "The Body." It is the body that senses the world and lets our existence be known. What comes to mind when you think of a body? Why does it vary so much in appearance and movement (e.g., babies and the elderly, bodybuilders and dancers, etc.)? What did your body go through when you were sick or injured? What if you developed other senses that replaced sight or hearing? Have you ever dreamed of having a machine enhanced body? What would it be like to have a body that isn't human? Do animals have a sense of their body? Let your mind wander freely on the concept of "The Body," and then express your ideas with pictures that your body creates.
Mixed teams from K-Arts, GEIDAI, and CUC met online and created their storyboards before the onsite workshop at the Yokohama campus, GEIDAI. 6 teams completed 6 animation pieces including original soundtracks.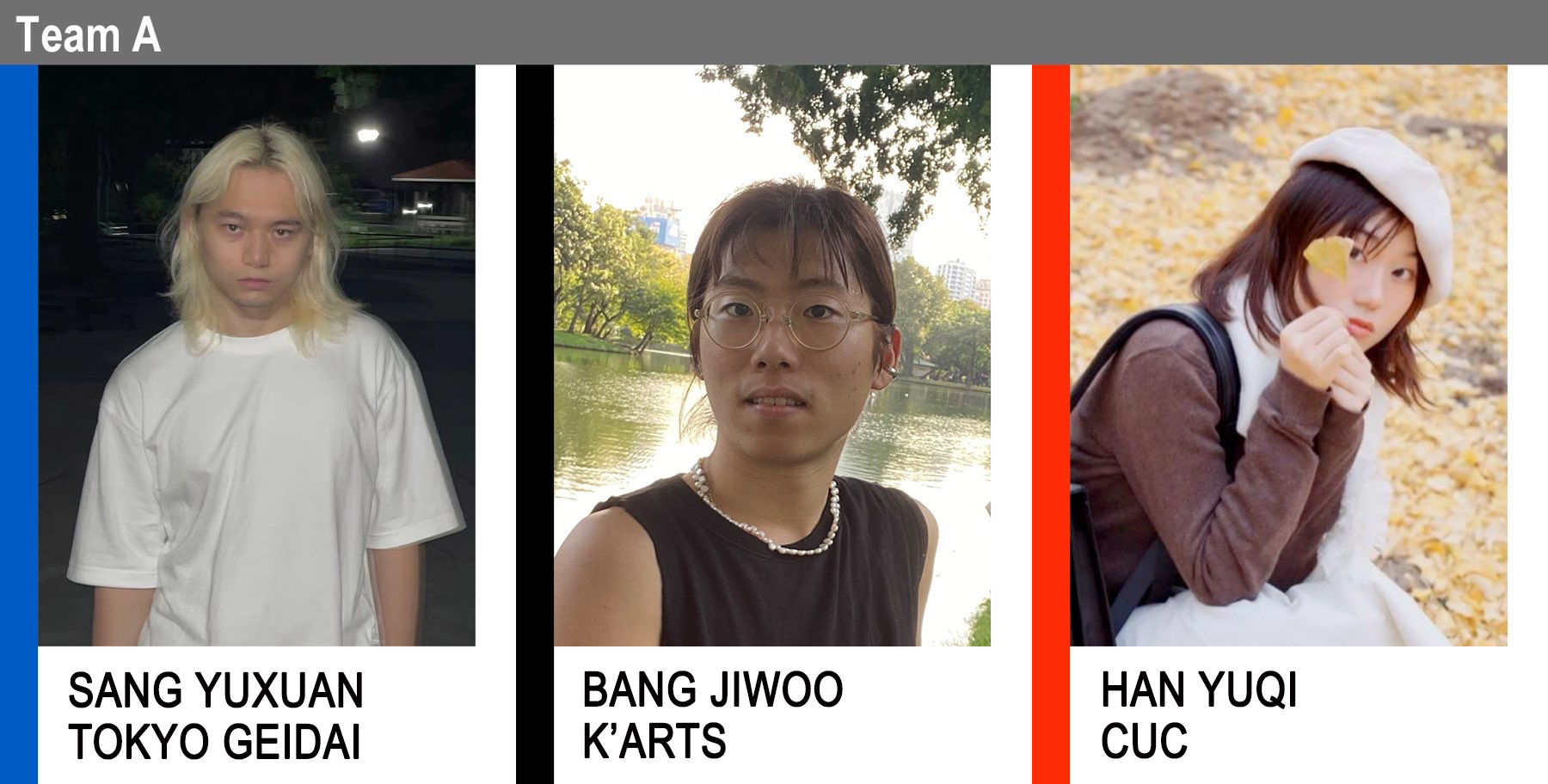 Film title: Apple
Team members: HAN Yuqi (C), BANG Jiwoo (K), SANG Yuxuan (TG)
Assistants: CHEN Hongxu, LIN Qianai, YANG Shiyu
Music & Sound: ADACHI Mio
Technique: Digital 2D animation
Running time: 1:53
When I was a child, I was ashamed of the changes that occurred in and to my body. This animation is an attempt to depict a girl's body and its growth poetically and sweetly. I hope it helps girls to accept their matured bodies and be confident of who they are.
During a nap, a girl dreams of driving a car on her body and discovers many interesting things along the way. When she awakes, the apple turns red.

Film title: Tangled Tresses
Team members: MA Shiyuan (C), ZHAO Yunfan (C), KIM Yeryeong (K), GOAN Kurumi (TG) Assistants: CHEN Huiru, DING Shuyue
Music & Sound: SHIMA Naohiro
Technique: Digital 2D animation
Running time: 1:36
We wanted to focus on a part of the body that is easily overlooked: the hair. Tangled hair is not only a pain to manage, but it creates a mess and is overall unpleasant. Through our light comedy, we wish to encourage everyone to embrace every aspect of their body.
The little girl is haunted daily by her tangly hair. One day when she visits the Hair Museum, she becomes so scared that she falls into a nightmare. There she meets her nemesis, the tangled tresses.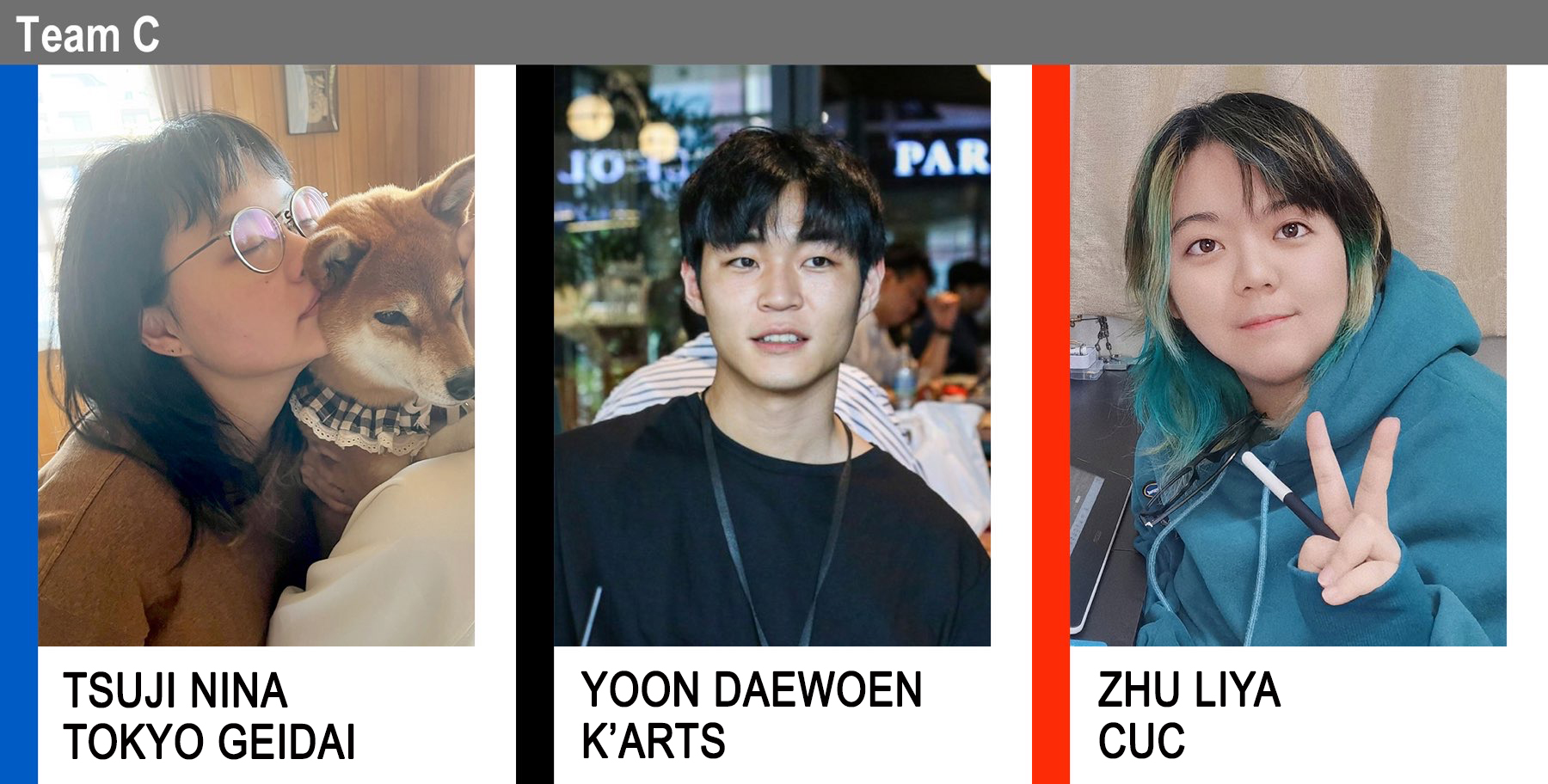 Film title: One day, I met King Kong
Team members: ZHU Liya (C), YOON Daewoen (K), TSUJI Nina (TG)
Assistants: HUANG Keye、LI Jiayin、MA Yiqian
Music & Sound: SHIMA Naohiro
Technique: Digital 2D animation
Running time: 1:41
You should love your body no matter what its appearance.
A girl is troubled by having too much body hair. One day, she meets King Kong in the mirror.

Film title: Sweet tooth
Team members: QING Yunxin (C), XU Xiaoyu (C), LEE Gyujin (K), TAKEHARA Yu (TG)
Assistants: WEI Yida, YE Xinran
Music & Sound: YOKOZAWA Akio
Technique: Digital 2D animation
Running time: 1:28
We saw the human body as composed of layers of various worlds. Each layer is an expression of emotions, thoughts, dreams, inner beauty, pain, and chaos. We also wished to show that humans are always making the same mistakes over and over again.
A patient is carried into the emergency room with a candy stuck in his throat. The operation to remove the candy reveals his many inner landscapes.

Film title: Devotion
Team members: WANG Yuntao (C), ZHANG Ruihan (C), KIM Eunkyung (K), YAMANAKA Chihiro (TG)
Assistants: WANG Luyi, WANG Ziyu
Music & Sound: ADACHI Mio
Technique: Digital & hand-drawn 2D animation, Stop motion, Paper cutout
Running time: 2:24
The mother creates the baby's body. In taking care of the baby, the mother usually forgets about her own body. The word "献身" means devotion and is used in all three countries of Korea, China, and Japan. It is perhaps the most simple yet striking term that defines a mother.
A tired mother falls asleep after she puts her baby to bed. In her dream, she enters a sandbox where flowers bloom from her footprints, trees sprout from her hair, a river forms from her legs, mountains from her breasts, and a bright moon from her face. She becomes the universe. But suddenly, a storm erupts and a big wave gathers up her body parts. The thunder gradually turns into a baby's cry and the mother wakes up to care for her child.

Film title: Mirage
Team members: REN Da (C), JANG Heeyoung (K), SHIN Nahyeon (K), XU Jiaxi (TG)
Assistants: CHEN Zhiyan, LI Jingyi
Music & Sound: YOKOZAWA Akio
Technique: Digital 2D & 3D animation, Stop motion
Running time: 2:06
Our bodies traverse the realm of sensations as we live out our lives. Imagine a world where these sensations can be felt virtually – would they be accepted as reality or be dismissed as imaginative conjecture? If such an alternative becomes available, which path would we select? Our animation is anchored in these questions, exploring life through the lens of bodily sensations.
As the seasons shift, a snowman possesses the extraordinary ability to morph into different physical forms. He enjoys such boundless freedom. Is all of this real or merely a mirage?